Since October 24th, Digital Shadows (now ReliaQuest) has observed an increase in attack claims and social media activity associated with the OpCatalunya (OpCatalonia) hacktivist campaign. Given the ongoing tensions between Catalonia and Madrid, we expect online activity to continue for the next few weeks at least. Here are five things all organizations with operations in Spain need to know about the campaign:
1. What is OpCatalunya?
OpCatalunya was established in late September 2017 by affiliates of the Anonymous collective in response to ongoing political and social tensions between the Catalonian autonomous community and Spain's Madrid government. Catalonia held an independence referendum on October 1st that was subsequently declared "illegal" by the Spanish government. Although we observed a small number of references to the hashtag OpCatalunya on social media before late September, these were not related to the incumbent hacktivist campaign of the same name and instead pertained to long-running tensions between the region and central government, which dates back to the nineteenth century.
2. Who is Involved? 
Although the campaign is most closely associated with the Anonymous collective, particularly its Spanish iteration (Anonymous Spain), other hacktivist actors and groups, including Shadow Sec team, Team Poison, F Security and other branches of the Anonymous collective such as Anonymous France, Anonymous Albania, Anonymous Belgium and Anonymous Germany have either taken part of pledged their support.
3. What Activity Have We Seen?
The campaign initially called for attacks against Madrid-based government and law enforcement websites; however, there has been a widening of targeting to include education, media, and financial services organizations across Spain. As well as several denial of service (DoS) and data leak attacks against Madrid government sites, Anonymous Spain made DoS attack claims against the Spanish royal family's website and that of Real Madrid Club de Fútbol, the latter due to its historic ties to the royal family and former Francoist regime. Other supporters of the campaign called for attacks against media companies perceived as providing partisan and anti-Catalan reporting, including El Mundo, Marca, El Pais, Pris and Grupo Planeta. Organizations that do not primarily operate out of Madrid have also been targeted; we detected DoS attack claims made against Banca March, a Spanish bank headquartered in Palma de Mallorca. There were also data exposure attacks conducted against websites belonging to the University of Malaga and Federation of Canary Islands, as well as a defacement of the Faculty of Sciences at the University of Cordoba website.
Given the political and nationalist motives of this campaign, social media activity for OpCatalunya was strongly influenced by developments on the ground. The rise in attack claims in the second half of October 2017 occurred alongside a surge in social media mentions of OpCatalunya and its associated hashtags. Social media mentions grew dramatically following an announcement on October 19th by the Madrid central government that direct rule would be imposed on Catalonia.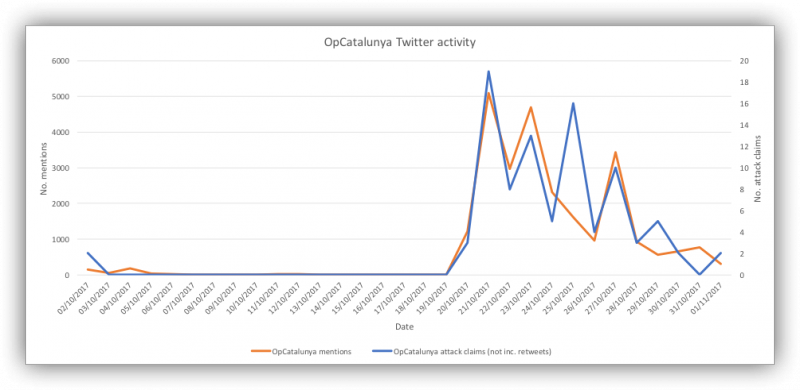 OpCatalunya Twitter activity for Oct 2017
4. Am I At Risk?
As targeting for this campaign had expanded beyond government and law enforcement, we assess that all Spanish organizations principally operating out of Madrid are at increased risk of attack. Moreover, OpCatalunya supporters are often opportunistic and not necessarily focused on organizations ostensibly aligned to the central state. Therefore, all organizations with Spanish operations are likely seen as potential targets, though the success of such attacks would often rely on the security posture of these organizations, with attackers typically conducting data exposure attacks and website defacements against low hanging fruit.
Although very few foreign companies have been targeted thus far, attackers may eventually move towards high-profile internationally recognized targets operating in Spain as a means of further publicizing their cause, particularly given the current impasse over Catalonian independence. The threat to foreign companies would also increase if they were perceived to have close affiliations with Madrid authorities – for example by publicly denouncing the Catalonian right to self-determination, displaying positive sentiment to the actions of central government, or threatening to move business operations out of Barcelona.
Despite displaying high levels of intent, the capability of OpCatalunya participants is typical of most hacktivist campaigns, primarily consisting of relatively unsophisticated data exposure attacks (likely conducted via SQL injection techniques that are popular among hacktivists), website defacements and DoS attacks. Therefore, the capability of OpCatalunya participants is assessed as low to moderate at the time of writing.
5. What Else Can We Expect?
OpCatalonia supporters have explicitly expressed their desire to conduct further attacks, namely a DoS attack against Spanish Internet infrastructure on November 12th. While no further information was provided by the OpCatalonia Twitter account, Internet service providers (ISPs) operating in Spain would be the most probable targets.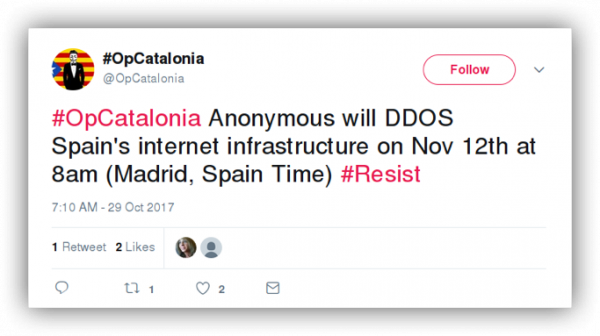 OpCatalonia Twitter announcement
OpCatalunya has already garnered the support of other participants from the wider Anonymous collective and beyond. We may see additional groups lend their support to the campaign, either out of solidarity for nationalist independence movements or to further their own cause. Forbes published an article on October 16th that claimed the Russian state was actively supporting Catalonian independence to sway public opinion in favor of its annexation of Crimea in 2014, which Russia maintains was a legitimate independence movement from Ukraine. While we detected no indication that Russia or other nation state actors had attempted to influence the Catalonian independence campaign through cyber activity, the prospect of this occurring in future was a realistic possibility.
Digital Shadows (now ReliaQuest) has put in place a dedicated monitoring capability for this campaign. We will update accordingly should there be any significant change in targeting or increase in activity.